The Oxus Society Hosts Roundtable on Uzbekistan's Foreign Policy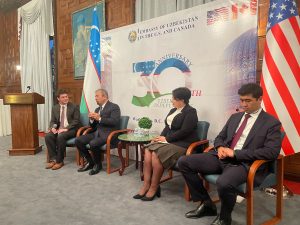 On September 28, the Oxus Society for Central Asian Affairs and the Embassy of Uzbekistan hosted an expert roundtable and reception on "Uzbekistan and Its Foreign Policy in Central Asia. Following introductory remarks by Javlon Vakhabov, Ambassador, Embassy of the Republic of Uzbekistan to the U.S. and Canada, President of the Oxus Society moderated a discussion with a delegation from the parliament of Uzbekistan.
Senator Sodiq Safoev, First Deputy Chairman of the Senate of Uzbekistan, Dilorom Fayzieva, Chairperson of the Committee on International Affairs and Inter-parliamentary Relations in the Legislative Chamber of the Oliy Majlis, and Senator Alisher 
Sadullaev
, Director of the Agency for Youth Affairs, discussed recent developments in the country, in particular Uzbekistan's foreign policy in relation to the rest of the region, including how the country is responding to the evolving situation in Afghanistan.
////////////////////////////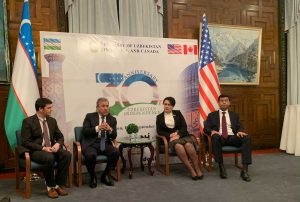 Lemon, Safoev, Fayzieva and Saddullaev discuss Uzbekistan's foreign policy
Members of the Oxus team, Board of Directors and Advisory Council