The Avengers vs the Orcs: Social Media Nuances in Kyrgyzstan's (Almost) Third Revolution
On 5 October protests against the parliamentary election results in Kyrgyzstan erupted and on the night of the 6th led to the storming of the country's "White House" – the state building shared by parliament and president. After the initial use of force in the form of tear gas, rubber bullets and water cannons, law enforcement disappeared as everyone held their breath in anticipation of Kyrgyzstan's third revolution. 
After storming Kyrgyzstan's "White House," protestors released several high-profile politicians who were serving lengthy sentences for various charges. Among these figures were the country's former President Almazbek Atambayev, sentenced to 11 years for corruption, and former parliamentarian Sadyr Japarov, sentenced to 11 years and 6 months for kidnapping.    
Amid the attempted revolution, or rather a coup d'état, the country's President Sooronbay Jeenbekov disappeared from the public eye. It is important to note that Jeenbekov was a protégé of Atambayev, who he succeeded in 2017 and grew to resent shortly after.
Outside of his prison cell, Atambayev gave a few public speeches in which he stated his views on Jeenbekov. Atambayev exclusively referred to Jeenbekov as "Shariman" and not Sooronbay in reference to an incident in January when Russia's President Putin seems to have forgotten Jeenbekov's first name and pulled "Shariman" out of his sleeve. The confusion quickly turned into a wide-spread meme in Kyrgyzstan. By October 8, Atambayev had survived an assassination attempt before being imprisoned again two days later. 
Meanwhile, Japarov's political career has skyrocketed. After his release from prison he was quickly appointed prime minister and following the October 15 resignation of Jeenbekov became acting president. The move was unusual, with parliamentary speaker Isayev set to fill the role in accordance with the constitution, but deciding against it. 
Unlike the "Tulip Revolution" of 2005, and "the Second Revolution" of 2010, the current turmoil is taking place within a context of technological ubiquity. Technology, particularly smartphones, has allowed citizens to express themselves online; influence political developments; coordinate activism on-the-ground; and provide greater visibility, both internationally and domestically, to developments in the country. 
Each key platform has fulfilled a particular role in the events. 
Twitter: Lost in Translation
Kyrgyz Twitter is its own universe and it can be described as a public forum for well-educated Russophones. Most political tweets are in Russian, for which the authors get criticized by nationalists who demand that Kyrgyz become the primary language of communication. 
Kyrgyzstan's Twittersphere is famous across Central Asia due to its active political debates among journalists, academics, diplomats, restaurateurs, students, activists, doctors and many others on the platform seemingly 24/7. Several authors enjoy a large following and provide a clever, sharp, sarcastic, entertaining and an up-to-date account of the country's political life.  
New "heroes of the day" emerge in no time on Kyrgyz Twitter and their reputations are demolished even faster in this fierce arena. 
Top Twitter Accounts to Follow:
An interesting terminological phenomenon used by Kyrgyz Twitter is "Balkonskie" – a term resembling the Bolkonskie family in Leo Tolstoy's War and Peace but spelt with an "a." In this case, referring to a "balkon" – Russian for balcony – referring to people living in the inner-city apartment blocks. It is perceived that Balkonskie have been looking at the state's domestic events from the comfort of their balconies, not willing to take any risks. 
The word is used as a self-irony by Bishkek locals and as a derogatory term in sociological othering in the context of confrontations between the "privileged capital" and the "depressed periphery."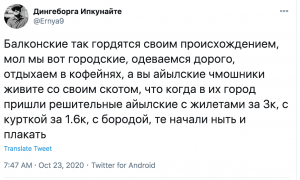 ["Balkonskie are so proud of their origin, they say we are urban, we dress expensively, we hang out in coffee houses, and you rural weaklings live with your cattle. When rural people came to their city with vests for $3,000, with a jacket for $1,600, or with a beard, those [Balkonskie] started whining and crying."]
Amid the current turmoil, the divide between Russophone Balkonskie and the rest of the country is ever so apparent. On Twitter, Balkonskie have themselves proposed an initiative to tweet more in Kyrgyz, to burst their own filter bubble, and to create discourses in a language that is accessible beyond the apartment blocks of Bishkek. 
Facebook: The Political Mainstream 
Facebook is home to only a fraction of the rich discussions and exchanges taking place on Twitter. Kyrgyz Twitter's most popular people are either inactive on Facebook, or keep it as a space for other types of interactions, while sharing a fragment of their daily Twitter posts to keep their English-speaking friends across the globe in the loop of what's going on. This may have been a strategic error, leaving a political vacuum for pro-Japarov discussion to seize the advantage. 
President Jeenbekov and his supporters used Facebook as the means of communicating with their constituency during the turmoil and amid the seizure of state television offices. Following his resignation, the official Facebook page of Jeenbekov flooded with nostalgic posts featuring images from state visits and domestic meetings with factory workers, school children, farmers, and athletes. 
Top Facebook Accounts to Follow:

Instagram: The Cultural Mainstream
Instagram's role and place can be summarized as a stage for the country's pop stars, informal leaders and influencers, many of whom took the opportunity to stream politicized messages both in support of the establishment and in opposition to it. 
Some of the "stars" came forward supporting the status quo and President Jeenbekov during the turmoil. Screenshots of such posts were widely shared on Twitter with disapproving captions, shaming the concerned artists. Kyrgyz pop stars have been accused of being sponsored by the mafia and of supporting criminal elements.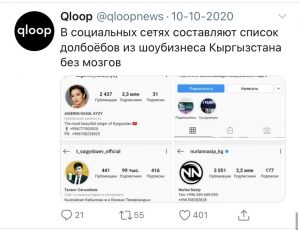 ["On social media they are compiling a list of brainless motherf*$#rs among Kyrgyz showmen"]
Alternative voices have also been present among Kyrgyzstan's popular musicians. A prime example, among others, is singer Mirbek Atabekov who joined the protestors and demanded changes in the country. 
Telegram: Vigilante Central Command
Telegram is a booming platform in Central Asia that has been put under pressure in Russia and Iran and enjoys growing popularity in Uzbekistan. Amid the turmoil, Telegram has become a central stage for the coordination of the so-called druzhina – a formation of vigilante citizens who stepped in to protect property amid the absence of police in the city of Bishkek. 
Top Telegram Channels to Subscribe To:
Previous unrest in the country resulted in mass looting of private business and the destruction of public infrastructure. To prevent such incidents from happening again, citizens gathered in key locations such as city halls, markets, mass media headquarters, telecommunication offices, etc., and stood in front of these sites as a live-shield. 
During the peak days of the turmoil, druzhina's Telegram channel was overloaded with messages as night fell on Bishkek. People directed each other to key locations, offered rides, signed up for service, offered financial support, tea, food, clothes etc. 
Some fake and inadequate messages designed to provoke or misinform penetrated the druzhina's Telegram feed. Admins took on the task of weeding out bad information and provocateurs.  
Cultural Acupuncture: The Avengers vs the Orcs
References to popular culture and science fiction have been prevalent across social media platforms in the posts addressing current events in Kyrgyzstan. In the best practices of cultural acupuncture, citizens relied on fictional characters to promote change in the real world, to frame the confusing events in a comprehensible manner, and to define "who is who" with the help of familiar popular characters. Sometimes, several different series were used in a single narrative, creating new stories with cross-penetration of heroes and villains 
From referring to politicians freed from prison cells as "the prisoners of Azkaban" to comparing the power-grabbing operations in the country to The Game of Thrones, with a thorough and detailed presentation of prototypes of each character among the Kyrgyz political elite, social media users went all in with their creativity and imagination. 
Among numerous fascinating cases, some social media users in Kyrgyzstan were clear about their heroes and the villains. As such, citizen guards – druzhina – were proclaimed to be The Avengers , while the looters and provokers, including those who helped Japarov come to power, were compared to the Orcs. Whether this fusion of fictional characters will lead to a happy ending in the non-fairytale realities of Kyrgyzstan is yet to be seen. 
Rashid Gabdulhakov is a PhD Candidate at the Department of Media and Communication of Erasmus School of History Culture and Communication, The Netherlands.