Sport and Masculinity in Kazakhstan's Nation-building
Last month Kazakhstan held its annual traditional wrestling championship known as Qazaqstan Barysy (Kazakhstan's Leopard). Organized in the palace of martial arts in the country's capital, the event resembled hundreds of other competitions previously held there. Yet in some ways it was strikingly different. Yurts guarded by men dressed as Kazakh warriors substituted for dressing rooms. Women in full traditional Kazakh clothing paraded around the ring. The wrestlers wore traditional robes known as chapans and wolf skins. The event also received much more significant attention from the government. The list of guests included first president Nursultan Nazarbayev's nephew, first deputy chairman of the National Security Committee and head of Kazakh wrestling federation Samat Abish, first deputy chief of presidential administration Dauren Abayev, minister of culture Aktoty Raimkulova and the mayor of the capital city Altai Kulginov.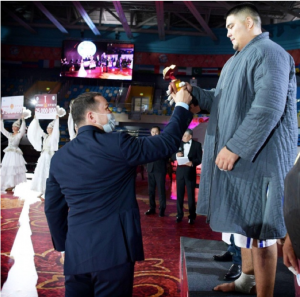 Mr. Abish awarding the winner of the championship. Source: Tengrinews
Sport, and traditional wrestling in particular, forms an essential part of Kazakhstan's national identity. It is an instrument for expressing national strength, a fundamental idea underpinning the government's narrative and vision for the country.  Due to famine, forced population movements and migration, when the country gained independence thirty years ago, ethnic Kazakhs comprised less than half of the population. Most people could not speak Kazakh or simply preferred to use Russian. Many Kazakh traditions and practices were abandoned. This situation, along with a lack of a strong army, a failing economy, and Russia's direct proximity, threatened the survival of the newly established republic. The country's leadership faced the daunting task of reviving Kazakh national identity while simultaneously creating a supraethnic Kazakhstani civic identity to include minorities and not anger Kazakhstan's northern neighbor.
Nation-building has numerous components. The government overhauled the education system, creating compulsory History of Kazakhstan classes centered on their ancestors' continuous fight for independence. Students read ballads about the feats of great Kazakh batyrs – hero warriors – in literature classes and discuss the fight for independence against Oirat and Chinese invaders in their history classes. Movies sponsored by the state promote patriotism through the images of batyrs, depicting them as selfless and exceptionally strong men who "could break metal with one kick."
Nationalist discourses stress "national strength." And sport has proved to be an ideal channel for establishing this. The government has invested heavily in the development of the sport, spending $372 million last year, and supporting a network of professional sport clubs that promote the country's image abroad. The government pays particular attention to combat sports such as wrestling and boxing, the most popular combat sports in the country. In 2019, 2,000 wrestling clubs provided classes for over 50,000 children and at least 30,000 adults, while 30,000 people regularly attend boxing classes. In addition, the government organizes regular competitions. Practicing qazaqsha kures, participating in competitions, watching it on TV, and cheering for the favorite paluan reinforce the sense of belonging to a particular ethnic group and strengthens Kazakh national identity. Beyond wrestling, the country prides itself with a traditionally strong school of boxing which brought up world-class sportsmen such as Bakhtiyar Artayev (2004 Olympic gold winner), Serik Sapiyev (2012 Olympic gold winner) and Daniyar Yeleussinov (2016 Olympic gold winner).
Non-Kazakh sportspeople have been used to promote civic Kazakhstani identity. The most famous boxer from Kazakhstan is Gennady Golovkin –two-time middleweight world champion, holder of IBF and IBO titles.  Born to a family of a Russian coal miner and Korean laboratory assistant, he famously declared that he is Kazakh: "my mother is Korean, my father is Russian, but I consider myself as Kazakh." The boxer receives widespread support in the country; there is a popular joke that only Golovkin's fight can make Kazakhstanis get up early at the weekend. Golovkin is also popular among the country's leadership: first president Nazarbayev personally watched his fights and congratulated him in the aftermath.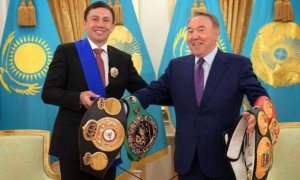 Gennady Golovkin and Nursultan Nazarbayev  Source: Sports.kz
Another prominent non-Kazakh sportsman is Ilya Ilyin, two-time gold medal winner at the Olympics.  Ilyin was described as "the pride of the nation" and even "Kazakh batyr" by the Kazakh-language press. Despite later doping scandals, the sportsman received unwavering support from the state: former president Nazarbayev famously said that for him, Ilyin will always remain a champion, and he was later given an administrative position in his home region.
The government realizes the political importance of sport and offers various benefits to sportspeople. The winners of state and international competitions receive significant financial assistance from the government. In addition to multiple benefits such as a new apartment or car, winners of gold medals at the Olympic Games receive $250,000, Qazaqstan Barysy receive $55,000, and the winner of Halyk Barysy gets $23,000. They are glorified as national heroes on state TV, newspapers, social media platforms and even in school textbooks.
Strong sportspeople who successfully represent their country fit into the government's narrative of a masculine nation. Combat sports are ideal channel for fostering this understanding – they require strength, aggression, and persistence – all qualities associated with masculinity. Boys are encouraged to practice boxing, wrestling, karate and other combat sports from the childhood to become "real men."
Of course, this leads to instances of toxic masculinity where any male behavior deemed to be feminine is ostracized. The best example is Ninety One, the first Q-pop boy band inspired by K-pop. Members of the group dye their hair, use make-up, and wear skinny jeans – everything that violates the country's understanding of masculinity. Of course, the band met resistance and anger from conservative members of the public. One of the people against the group said "They can't be called men." The group also had a cold welcome from the government – the public demanded their concerts be cancelled, and authorities willingly shut down venues already prepared for the artists. This is not surprising – Ninety One do not fit into the government's vision of national identity as they appear too feminine.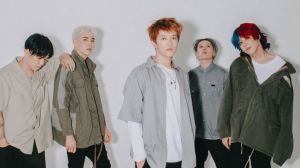 Ninety One. Source: Tengrinews
Overall, these efforts to promote a masculine nation via sport have been successful. The national narrative is persistent and considered natural among the generation born after the country received its independence, even among Western-educated youth. Both Kazakhs and non-Kazakhs cheer for the country's national teams without paying much attention to the ethnicity of their members. Yet, there is concern as to what degree sport can be used to push the government's vision of the country since it heavily relies on the success of sportspeople. The recent poor performance of Kazakhstan's boxing and wrestling teams at the Tokyo Olympics resulted in disappointment in the country. Even though it didn't shatter the image of a strong nation, it left a dent.
Diyas Takenov is a student at the Department of Political Science and International Relations, Nazarbayev University. Follow him on Twitter @DiyasTakenov.