Irina Kairatovna and Political Art in Kazakhstan
Kazakh music group Irina Kairatovna have become one of the country's most popular acts, known for their highly successful music videos with bold political statements. The group first appeared in 2017, initially as a comedy show with 20 minute sketches. All six members of the group were previously involved in КВН (Клуб Веселых и Находчивых or Club of the Funny and Inventive People), a Soviet-era comedy TV show that is still popular in the post-Soviet space. Having a background in writing jokes, acting and performing Azamat Marklenov, Aldiyar Zhaparkhanov, Zhasulan Ongarov, Ilya Gumenny and Ulan Kairlasov united with experienced director Kuanysh Beisekov. Together they founded Irina Kairatovna, claiming that they were ushering in "a new era for Kazakhstani YouTube." At the time Kazakh YouTube was underdeveloped, with the major focus on Instagram and on so-called "Viners," individuals and groups who produced one-minute sketches on the social media. Despite Youtube's lack of popularity at the time, the group quickly became viral and gained hundreds of thousands views. Initially, the main topics of the videos were alcohol, drugs, partying, and sex.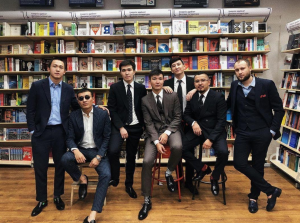 Picture from Irina Kairatovna VKontakte page 
(Members of the group, from left to right, Aldiyar Zhaparkhanov, Azamat Marklenov, Ulan Kairlasov, Kuanysh Beisekov, Zhasulan Ongarov, not a member, Ilya Gumenny) 
As social media use boomed in Kazakhstan, Salem Social Media appeared on the stage in 2018, quickly signing celebrities and influencers like Irina Kairatovna. It is widely believed that Salem is associated with and sponsored by the government, with its head and founder, Alexandr Aksutitz, being former Press Attaché of the ruling political party Nur Otan. As a result, artists signed to Salem were expected to self-censor.
Irina Kairatovna and Salem Social Media parted ways in 2019. Soon Irina Kairatovna started covering topics like corruption, the mishandling of the Covid-19 pandemic by the government. The music video "5000," their most vocal political statement to date, was released on December 29 and has already clocked up a staggering 23 million views, more than the population of the country.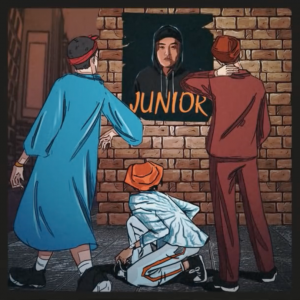 Screenshot from Irina Kairatovna's music video "Не Ангиме?"
Although the group is exclusively male, women do appear in sketches in supporting roles. Women in sketches usually get screamed at, beaten and shot, and referred to as "slut" and "bitch." For example, in the video below, a woman was supposed to be saved from a criminal by superheroes. But a Kazakh superhero decides to attack both the criminal and the girl. When asked why he did not save the girl, he replied that she is not worth saving as he knows her and she is a slut. 
Despite these negative portrayals, IK claims to be against domestic violence. They have even released a music video about it with a hashtag "любитьанебить" (love but not beat), devoting a mural in Almaty to domestic violence.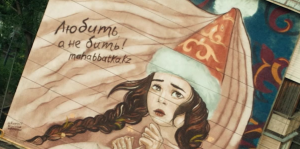 Photo from Esquire.kz
Women in the sketches and music videos are portrayed as liberated, able to initiate sexual contact, drink alcohol and smoke cigarettes. They attend house parties and dress freely, running counter to the patriarchal and traditional values of some segments of society.
When it comes to the LGBTQ community, the group's stance on it is very clear. IK shows members of the community mocked, killed, laughed at and isolated. In the video below, two gay men go to couples therapy, and get shot in the end when start fighting. The therapist who shoots them, says "Dear sexual minority of Kazakhstan and other fagots, please come and we will heal you too." 
In another sketch, a character decides to come out to his friends only to be condemned by them. These negative representations only strengthen discrimination against the LGBTQ community in Kazakhstan.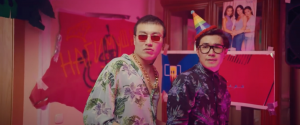 Screenshot from Irina Kairatovna's show 10: Last release 
Politics in Kazakhstan 
Irina Kairatovna are one of the only artists in Kazakhstan to speak openly about politics. At first, their political references were subtle. But in the latest works the members of the group have become more vocal about their political views. This runs in parallel to the emergence of an increasing protest mood in the country since president Nazarbayev resigned in March 2019. Kuanysh Beisekov, the director of the show, claimed that he was an active participant in the protests that spread across Kazakhstan in 2019.
Their most popular video, "5000,"  references previous political leaders of Kazakhstan, especially Dinmukhamed Kunayev, who was the First Secretary of the Kazakh SSR twice in 1960-1962 and in 1964-1986. The group also frequently refers to the first Kazakh democratic party and the liberation movement that was active between 1917 and 1920, but was repressed and dissolved by the Soviet Union. The video contains a Kazakh version of Mount Rushmore When asked by Dud why Nazarbayev was not there, director Kuanysh Beisekov stated that he did not deserve to be there. Moreover, he claimed that he is not afraid to produce political art of this kind, because he is not afraid of the ruling government and the secret service of the country. 
The music video also highlights two political failures of recent years, the Nur-Sultan Light Metro, which has been under construction since 2011 and cost over $1.5 billion, and the mishandling of the pandemic in the summer of 2020.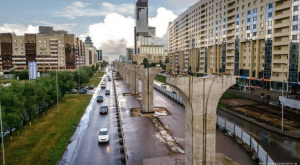 Photo © Turar Kazangapov
Their main criticism of the government's handling of the Covid-19 pandemic is connected to the celebrations of Nursultan Nazarbayev's 80th birthday and the day of the capital city, both of which are celebrated on July 6. Despite record cases and deaths due to the pandemic at the time, the government still held the celebrations and organized an opulent fireworks display.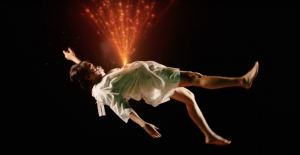 Screenshot from Irina Kairatovna's music video "5000"
The group is planning to continue to speak up on political issues and keep producing art with political statements. The group's emergence and popularity in Kazakhstan points to a new  generation of young people more engaged in politics and more willing to question the path the country is taking as power transitions from Nazarbayev to Tokayev.
Alimana Zhanmukanova is a graduate of the OSCE Academy and a Research Assistant at the Oxus Society for Central Asian Affairs.