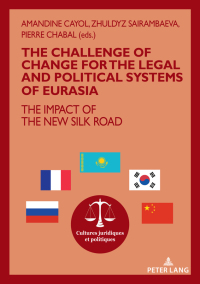 The Challenge of Change for the Legal and Political Systems of Eurasia: The Impact of the New Silk Road
Author:
Zhuldyz Sairambaeva, Cayol Amandine, Chabal Pierre
Category: Central Asia, International Relations, Kazakhstan, Kyrgyzstan, Law, Politics, Tajikistan, Turkmenistan, Uzbekistan
Publisher: Peter Lang AG
Publication Date: 2020
Language: English
Link to Publisher
Description:
---
The authors seek to address three issues in this study: First, how legal systems that were established long ago are challenged by the necessity to adapt to change both in time, rapidly after the end of the Cold War, and in space, across the continent of Eurasia. Second, how legal these systems evolve both in a sui generis manner and adopt, each for itself, reforms at the national and sub-regional levels; and also in a reciprocal manner, learn and borrow from each other towards a "regional legal order" in the making. Third, how extrajudicial evolutions, such as the logistical and commercial dynamics of the Belt and Road Initiative(s) appear to be the source or the cause of that very change affecting all Eurasian actors and interests.
Back